Introducing Amelia— The Get it Done Jumpsuit Making Using the Bathroom Naked a Thing of The Past
PUBLISHED ON
June 06, 2023 3:18 AM
Live on Kickstarter, Amelia is a line of jumpsuits and rompers that wearers don't have to pull all the way down to use the bathroom.
Sheridan, WY - June 6, 2023 —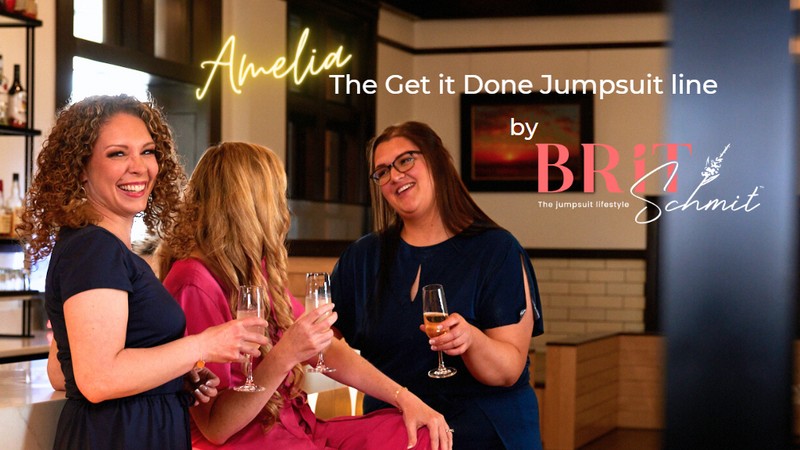 Amelia, the revolutionary new jumpsuit from designer Brit Schmit that solves the age old problem of how to use the bathroom without getting naked, is live on global crowdfunding platform Kickstarter and raising funds to bring the project to life.
Jumpsuits and rompers are a timeless fashion choice— except when it comes time to use the restroom. Difficulties unzipping and the common annoyance of having to pull the piece all the way down to use the bathroom give some a second pause when reaching in the closet. Amelia is a breakthrough new line of chic jumpsuits and rompers that don't have to be fully removed when using the restroom; now wearers don't have to decide between fashion and function.
"Ever since my first bathroom experience in a jumpsuit, feeling exposed and freezing in a public restroom, I knew there HAD to be a better way to design jumpsuits," says owner and founder Brittni Schmit on the inspiration behind the project. "After years of complaining, and a bit of experimentation, I shared a prototype I had made with my business coach, a former 300mph racecar driver turned entrepreneur, author, speaker, podcaster, wife, and mom of 5. She loved the design, as have many others. And the more I shared my idea, the more people have resonated with the problem. Our 20,000+ Instagram followers speak to that."
Amelia is a breakthrough new design that makes removal for bathroom breaks easier than ever. Thanks to an innovative new wrap waist design— wearers simply have to untie, pass the fabric between their legs, and tuck the the fabric under their arm and they can do their business while staying classy and clothed. A half zipper means no more asking stranger or friends for help and an extra wide hem means the legs can easily be extended to any height.
For the Kickstarter campaign, Brit Schmit is offering 3 different pieces— the Dani Romper, the Jessie Jumpsuit, and the Alma Jumpsuit. The company has partnered with Direct to Source ensuring an ethical and sustainable apparel manufacturing process as well as a living wage for all workers. Fabrics for all 3 pieces include sustainable, high-quality textiles ensuring a piece that not only feels great and lasts long; but is also environmentally friendly.
"People's bodies come in all different shapes and proportions, and our bodies even change throughout the day. Our patent-pending wraparound design means that the waist is adjustable so you can tie the waist to what's most comfortable for you in the moment," adds Schmit. "Ask almost any woman what they think of jumpsuits and bathrooms and they will tell you themselves. Google 'jumpsuit problems' or 'romper problems' and you will see pages of memes and videos describing how exposed, uncomfortable, and inconvenient traditional jumpsuits are, despite how fashionable they are."
Amelia by Brit Schmit is currently live and available to support on Kickstarter: www.kickstarter.com/projects/neverpeenakedagain/amelia-the-get-it-done-jumpsuit-line-by-brit-schmit
About Brit Schmit LLC
The Brit Schmit clothing brand is on a mission, to create clothing that empowers women to be vibrantly and enthusiastically present wherever their day takes them, starting with helping you never pee naked in a jumpsuit again! Their patent-pending wraparound design removes the bathroom hassle from this popular clothing item. As a brand, we choose to create our products in a way that empowers people to live their best lives though choosing socially and environmentally responsible practices. But we're not stopping there, follow our journey to become a billion-dollar brand that has a global impact at www.neverpeenakedagain.com.
For more information on Brit Schmit LLC please visit www.britschmit.com
###

Contact Info:
Name: Chris Woods
Email: Send Email
Organization: Brit Schmit LLC
Website: https://www.britschmit.com/

Release ID: 89099242
If you detect any issues, problems, or errors in this press release content, kindly contact error@releasecontact.com to notify us. We will respond and rectify the situation in the next 8 hours.